Hebei huanghua yongshengyuan hardware products co. ltd. Is a manufacturer which maily Produces hardware products.this factory located in the beautiful seaside city -Huanghua.huanghua city has very convenient traffic ,graceful environment and rich natural Resource . All of those provide very good conditions for our factory.Our products are as follows:washers,nuts,iron meshes,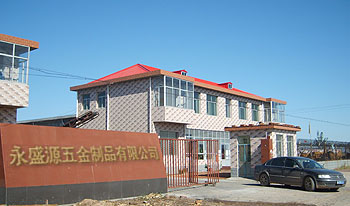 slab bolsters,nail stake,screw nutL-Type.
Our factory has very strong specialized techniques and advanced equipments.With theIncreasing of our business, the quality of our products is being improved .Our products Have been exported to europe,america,canada, middle east, south america, ect. In recent Years, we are making efforts in developing internal market, and have established a sales Scope including shanghai, beijing,wuhan and so on. We believe that there will be more and More clients getting to know our products.
"honest,keep our words,development and service" is the root for our factory's Development. We always insist on the priciple of "quality first, better and better, Client's satisfaction". And "innovation" is our factory's soul. We are lookingforward to Cooperating with all the old and new clients.our manager yue kaisheng with all the staff hope to make greater progress with our Clients together.
   General manager mr. Yue kaisheng takes along all staff, creates magnificently again.